Participation in Maker's Mark's Art & Soul Program marked a pivotal milestone in my portfolio. Chosen as one of six artists representing the Midwest, I assumed the role as an emerging Black Creator, spotlighted for making a significant impact on the world! Entrusted with a unique canvas, I was commissioned by Maker's Mark to craft sixteen barrel tops, designated for local bars, restaurants, coffee shops and restaurants throughout the tour cities.

The year-long partnership encompassed the licensing of one of my original artworks for utilization in point-of-sale materials, including posters, off-premise case cards, a pop-up banner, coasters, and promotional items. Additionally, the collaboration entailed my participation in live painting at four annual events and a charitable partnership involving the hosting of a fundraiser. We hosted the four events in Columbus, Cleveland and Cincinnati!

Here is how we executed this remarkable endeavor!
The partnership started with the painting of the barrel heads and a photo/video shoot describing my art and practice. Watch full video below!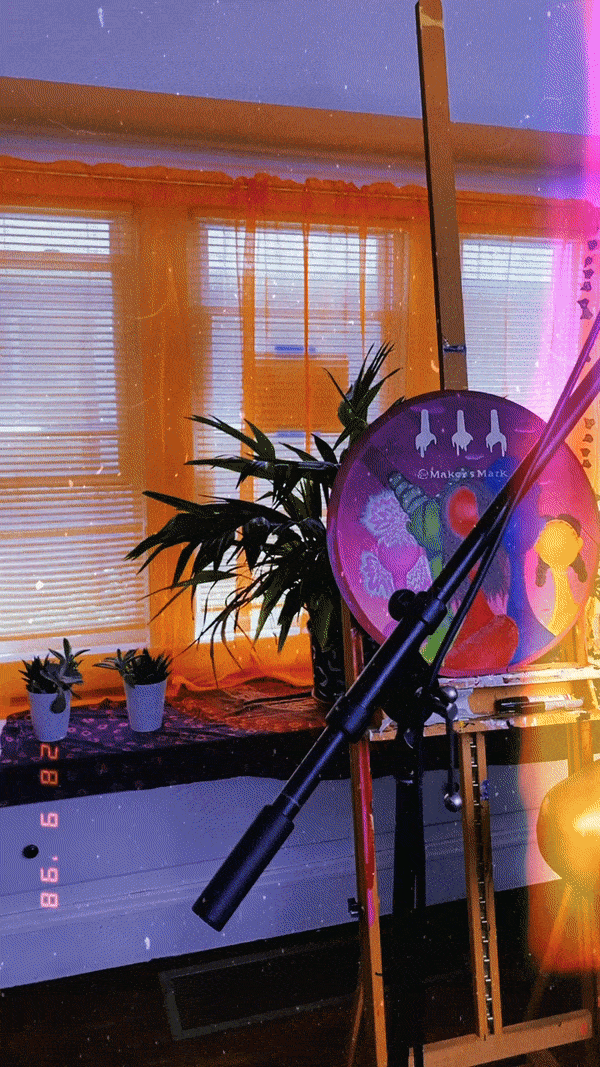 Here are a few of the barrel head designs
To generate enthusiasm and excitement for the upcoming shows

, I proposed organizing a scavenger hunt featuring the barrels at each location where they would be displayed, starting a month prior to each show. Once discovered, the individuals who found the barrels were required to capture a photograph of themselves with the barrel. They were then to tag me and Maker's Mark when sharing the photo on social media. Upon completing this task, their names were included in a list, making them eligible to receive a complimentary signed limited edition print of my artwork when they attended the show. Notably, I also appended enjoyable hints pertaining to each business wherein the barrels were situated. Our chosen venues encompassed a variety of local restaurants, coffee shops, and bars. The underlying objective of this initiative was multi-faceted: to amplify awareness of the show, stimulate patronage for our community partners, nurture a sense of camaraderie through online interactions, and foster the dissemination of my artistic creations. Here's a recount of how the process unfolded!
Looks from Art & Soul Cincinnati
This night featured a live painting by me and a comedy show in partnership with The Black Pearl Experience at Posh Events Cincinnati!
Live Art Experience: Nucleation
For the final show in Cleveland and in Columbus, I made the decision to present my live artistic experience titled "Nucleation: Crafting a New Structure Through Self-Assembly or Self-Organization." This exhibition portrays the transformative period of my journey in 2021—a time marked by tumultuous events and self-doubt. During this performance, I engage in live painting and singing, harmoniously accompanied by the poetry of Just C.O.S. This live art immersion also showcases the creations I developed during that significant phase of my life. Watch a video recap of the nights below

!






Videography by Anita Hoot (@reelhoot)